Week 1 – well where did that go?? Being school holidays in my part of the world, it just flew by. Thank goodness I set last weeks challenge as something "familiar"!  It meant that it was easier to come up with an idea this time – I created a drawing in the Zentangle style. If you've never heard of Zentangle, check out these two websites: zengangle.com and tanglepatterns.com. It is a beautiful art form that starts from the most basic artistic movements – a line on a piece of paper. From that simple beginning, you can go from strength to strength. If you do an image Google search, you can see the heights that this artform can attain!
I've only ever dabbled with Zentangle before, so this was a more purposeful drawing. I was searching through their ideas with the attitude of "how am I going to put these together in a more cohesive drawing?". It was a bit of a challenge as Zentangle is designed to be more of an abstract thing.
Here are some of the pics that I've come up with. They are not technically "new", but I've never put them together into more of a garden picture, which is what I was aiming for. It's not perfect, or near completion, but it is fun and a great place to start my journey.
The step by steps…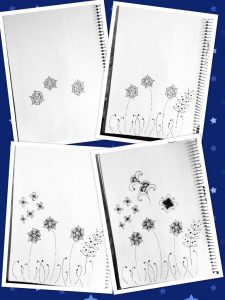 The "final for now" pic…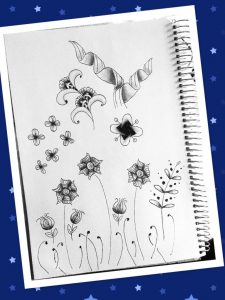 I love how this whole challenge can involve projects that could be a "work in progress". You may or may not see this again in the future!!  🙂
So – the theme for next week is:
"Squares"
Do you want to join me?? Please leave pics on my Facebook or Instagram page of any of your thoughts. I'd love to see them!!
Cheers
Janna